Eyelash Extensions Hermosa Beach
At our South Bay Wax& Lash Spa we are proud to offer Mink eyelash extensions from Xtreme Lashes®.  Xtreme Lashes® is the #1 company in the nation for eyelash products, services and training. Mink eyelash extensions from Xtreme Lashes ® are the most asked for and highest quality eyelash extensions on the market today. I'm a certified Xtreme lashes® stylist.
I have also received advanced training in Faux Mink Ellipse HD™ eyelash extensions.  This new product and procedure will change "volume" eyelash extensions forever!
What are Faux Mink Ellipse HD™ eyelash extensions?
The new Faux Mink Ellipse HD™ eyelashes are by Jo Moussell™.  The increase volume and lash-doubling look of the Faux Mink Ellipse HD™ eyelashes are amazing.
This scientifically designed lash has an exclusive ellipse-shaped lash that produces a wide base and also introduces a unique Y shape design at the tip that splits in to two eyelashes. This new Mink eyelash extensions introduces a whole new level of magnified volume and lush texture with its Y shaped designed that splits at the tip. Does it weight more? No! It weighs 47% less and not only that they stay on longer due to increase attachment surface area.
Volume eyelash extensions can make your eyelash look richer and fuller but at the same time keep that natural eyelash look.  Volume eyelash extensions application is a specialized procedure that requires advanced training. In addition to my Xtreme Lashes® training I have received personal volume eyelash training from Teresa Smith author and writer of the book "The Lash Bible".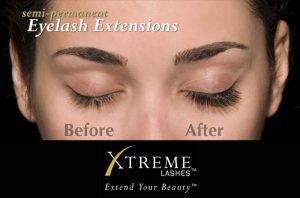 Hermosa Beach – Eyelash Extensions FAQ's
What are the lash extensions themselves made of?
There are three basic types of lash extensions: synthetic, silk and mink. We carry Mink eyelash extensions from Xtreme Lash® they are the #1 eyelash company in the nation. These Eyelash extensions are semi-remaining. Each strand can be shaped to imitate a natural eyelash. They assign length and thickness to your own lashes and are easy to use in varying colors, sizes and thickness.
Are eyelashes glued to the eyelid?
Never!  These are not false eyelashes or fake eyelashes. A single a synthetic lash is glued to the top of your own natural eyelash far enough from the eyelid so the glue nor the lash touches the skin. Eyelashes are glued to your natural individual eyelashes, one lash at a time. Is the glue safe?
Is the glue used to apply the lash extension safe?
Yes, if its non-toxic glue. Your eyes are shut while the lash extensions are being applied, when applied correctly no glue will ever get into your eye. What about irritation? Anyone can have an allergic reaction to anything even non-toxic adhesives. The glue we use is non-toxic reducing the risk of irritation. It's safe for your eyes and doesn't contain anything that can harm you, like formaldehyde. Eyelash extensions used by many eyelash salons in the Manhattan, Redondo and Hermosa Beach area use glue with formaldehyde, why? It's cheaper but is a common cause of irritation!
 How long does it take to apply a full set of eyelash extensions?
Applying a full set of lashes can take up one and a half hours. Eyelash extension refills take about an hour. You can wear eyelash extensions all year. How often do you need eyelash extensions refills? A lot depends on how well you take care of your eyelash extensions. Most eyelash extension refills are made every two to four weeks.
 How long do the eyelash extensions last?
This depends on many things. Usually refills are needed every 2-4 weeks. The better you take care of them the longer the eyelash extension lasts. Keep in mind this is NOT permanent beauty procedure. Remember like hair on the rest of your body they fall out and are replaced.  Eyelash hair is no different they will fall off also. Your natural lash cycle as well as how you take care of your lashes will affect how long they last. Also your lifestyle and what work you do will also make a difference how long they last.
What are refills, why do I need them and how often do I need them?
Refills are needed when the natural eyelash has fallen out and there has been an extension lash applied to it. You can get refill when at least 50% percent of your lash extensions are still attached to your natural lash. When you have less than 50% of lashes extensions left, a full set of lash extensions will be needed.
Some eyelash extension salons in the Manhattan, Redondo and Hermosa Beach area advertise that their eyelash extensions can last for two months, some even say they are permanent. One, these are semi-permanent eyelash extensions and will shed with the cycle of your natural lashes. Two, it's not possible for an eyelash extension to be permanent. The life cycle of a natural lash is around 25-28 days, so when your natural lash falls out, so will the synthetic ones that are adhered to it.  So no eyelash extensions will last for months nor can be permanent, it's NOT possible!
Do the eyelashes come in different lengths and thickness?
Yes, there are many different sizes, shapes and colors. We are eyelash extension specialists and we have received advanced training on how to apply various types, sizes and kinds of eyelashes. Eyelash extension treatments are classified into two main categories "classic" and "volume."
What is the difference between "Classic" and "Volume" eyelash treatments?
The Classic Style Eyelash treatment is a 1×1 treatment. The stylist applies 1 extension per 1 natural lash. With this treatment the eyelashes look beautiful, full and natural. Classic eyelash extensions in Los Angeles are very popular. At our Hermosa Beach studio we consult at length with our clients as to what is the objective of their eyelash treatment.
The size, curve and thickness of the eyelash are picked out carefully to support their natural eyelashes and to highlight their natural facial features. This style is perfect for adding extra thickness and length to your lashes and provides clients with dramatic but naturally beautiful looking eyelashes. For the classic eyelash procedure we use the Mink eyelash extensions from Xtreme Lash which is preferred by most of our Hermosa Beach, Redondo Beach and Manhattan Beach clients.
Volume Style Extensions require advanced specialized training. Volume eyelash extensions in Los Angeles area are gaining popularity.  Volume Extensions are performed with thinner and lighter extensions which allow an eyelash stylist to place up to 6 extensions (6D) per natural eyelash. Volume eyelash extension are known by 1D, 2D, 3D up to 6D.  This technique is not available to all our Hermosa Beach or Manhattan Beach clients because to start with, they must have many strong and healthy natural eyelashes.
What should I do before my eyelash extension appointment?
Make sure you thoroughly clean your eyelashes and that they are free of mascara before your eyelash extension appointment. The adhesive used to stick an eyelash extension to your natural lash will only work if your eyelash is clean and free of oil and makeup.
Will your natural lashes get harmed or damaged?
Eyelash extensions are not like false eyelash or fake eyelashes. If applied correctly and by a licensed professional trained in eyelash extension application by companies like Xtreme Lashes ®, they should be safe and not ruin the health of your natural lashes.
Can the eyelash extensions be removed?
Eyelash extension removal is something you want to avoid. Eyelash extension removal is occurring more often in the Hermosa, Manhattan and Redondo Beach area because of untrained and unprofessional people in the eyelash extension field. At either of our locations, Hermosa Beach or Manhattan Beach, we will consider trying to remove lashes that have been applied elsewhere. If we choose to do so, there will be a removal charge.
Can anyone get the Hollywood eyelash look?
Everyone has different lashes; some have short or long or very fine or thick lashes. What you have is what we can work with. So what we can accomplish is determined by the condition of your own natural lashes. We can only work with the length, health and thickness of your natural eyelashes. For example, if your natural lashes are on the shorter, thinner side, you won't be able to get what some of our Hermosa Beach clients sometimes call " the Kim Kardashian"  look.
What questions should you ask when searching for a reputable eyelash extension salon or spa?
Make sure the salon or spa specializes in eyelash extensions. Make sure you see someone who is trained and certified by a major company like Xtreme lashes®. Ask to see their certification. If they are a professional they will be certified and will be a licensed esthetician.
For an appointment for eyelash extension in the Hermosa Beach or Redondo Beach area call 310-347-2012