Hermosa Beach Body Wraps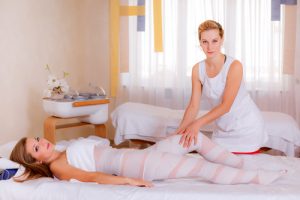 Body wraps in the Hermosa Beach and Manhattan Beach area

The first question many body wrap clients in the Hermosa Beach or Manhattan Beach area ask is: Do body wraps cause weight loss? The answer is, not really. Body wraps were not designed to cause weight loss nor were body wraps designed to make you suddenly slender from weight loss. So this begs the question.
Why are body wraps so popular in the Hermosa Beach area?
Body wraps or detox- body wraps were initially used only as a procedure in a detoxification process. But those administrating the detox body wrap and the ones receiving the body wrap could not help but to noticed that after the detoxification procedure the detox client also lost some inches! Wow did this fact ever turn on some lights! Now people in the South Bay area are into good health. So body wraps became popular in the Hermosa Beach area because when done correctly the body wrap is not only a detox helping to promote good health but also it may result in inch loss.
What is a body wrap and how do they work? Why a body wrap is also called a detox-wrap?
Body wrap also called a detox-body wrap soaks a medical grade bandage in a natural organic herbal solution. The herbal soaked bandages are then placed or wrapped around a person's body. The herbal solution is soaked into the bandages so they can be absorbed through the pores of the skin. After the herbal solution is absorbed through the pores of the skin they can penetrate the cells of the body and this helps cleanse the cells of toxins. Thus toxins can be extracted (detoxed) from the body through this body wrap process. So during this detoxification process while losing toxins you may lose inches also.
We call our body wrap: "The Beach Body Wrap*"
Most of our Hermosa Beach body wrap clients are interested in two things. 1. How much toxins are lost during the body wrap? 2. How many inches can be lost? The answers depend on many things like how toxic are you? Just to mention one of the factors. We can almost basically guarantee some toxin loss with one of our body wraps but can't guarantee any inch loss or any weight loss.
We also offer a Microcurrent* body wrap. Microcurrent** may increase the amount of toxins lost during a body wrap. For more information about our Hermosa Beach Body Wraps call us at (310) 347-2012
**For more information about Microcurrent see these websites: http://www.creativejourneyhealings.com/apps/blog/categories/show/1774228-lymphatic-drainage-weight-loss-detox
http://www.dermalinstitute.com/us/library/49_article_Catch_the_Microcurrent.html